Hudson's 2022 Year In Review
2022 was a milestone year for Hudson – one that's been three years in the making. Leaving the pandemic behind, Hudson witnessed tremendous recovery and through it all, stayed true to its purpose of being the Traveler's Best Friend.
To accomplish this, Hudson set three objectives for the year: Growth, focused on delivering sales expectations and expanding the Hudson footprint; Innovation, not only in technology but also in brand and store assortment; and "Working Better, Together," continuing to reengineer the way Hudson works and raise operational standards through the development of its team, technology, and transformational processes.
These objectives were designed to position Hudson strategically in the new travel and retail environment, support the Destination 2027 strategy, and align with the upcoming combination with Autogrill – and they've done just that! Here's how:
In a year packed with challenges, from supply chain issues to the labor shortage, Hudson consistently placed focus on accelerating its growth. Building on its recovery efforts from 2021, Hudson continued to work closely with its landlord and Airport Concessions Disadvantaged Business Enterprise (ACDBE) Partners to quickly and strategically reopen even more of its stores, both in duty paid and duty free.
Soon, leisure and domestic travel started to pick up, and then international travel gradually began to return. By the time travel demand had increased significantly, Hudson was well prepared to drive the recovery of the travel retail industry – and that was its competitive edge. Not only did Hudson have the stores open, but it also had the team, brand assortment, digital infrastructure, and standards of excellence to meet the new retail environment and evolving consumer preferences. This allowed Hudson to drive strong results in sales recovery and performance while also having the ability to be agile in the way it served travelers.
At the same time it was reopening stores, Hudson was also busy expanding its North American footprint at a historically high rate. In the U.S., Hudson won new net business from coast-to-coast, from Colorado Springs and LAX Terminal 3 to Newark Terminal A. On contract extensions, Hudson extended its agreements in markets like Las Vegas, Birmingham, Charleston, and Ontario, which included the redevelopment of existing stores into new concepts, and in Canada, Hudson extended several of its duty free contracts.
These successful business development efforts continued to demonstrate the strength of Hudson's portfolio, Traveler's Best Friend service, and operational excellence while distinguishing Hudson and its ACDBE Partners as a trusted concessionaire in the industry.
Building The Most Comprehensive Brand Portfolio
No matter what store they visit, travelers can have a one-of-a-kind shopping experience, thanks to Hudson's innovative retail formats and differentiated brand assortment.
Across its four business pillars – Travel Convenience, Specialty Retail, Duty Free, and Food & Beverage (F&B) – Hudson worked to develop the very best retail concepts. With its first-to-market concept, Evolve, Hudson offered shop-in-shops from specialty retail brands that resonated most with travelers in each market alongside its iconic travel convenience offering. Hudson exclusive brands, Ink by Hudson and Brookstone, continued to provide product selections that couldn't be found anywhere else. Local stores like Civil Rights Trail Market and Boardwalk by Hudson featured design elements that paid homage to each city and its unique history. And Hudson Nonstop + Decanted, a combination wine bar/restaurant and digital travel convenience store, allowed Hudson to demonstrate that it could successfully bring together convenience and F&B for a hybrid concept.
Aside from its exclusive concepts, Hudson also introduced new standalone stores from its brand partners. This included plans for its first-ever Chick-fil-A and Starbucks stores as well as new Sunglass Hut stores as the brand's exclusive operator in travel retail in North America.
As Hudson's portfolio was expanding with new stores, so was its product offering. With the changes in shopping preferences and new trends influencing purchasing behaviors, Hudson evolved its portfolio to not only meet those demands, but exceed them as well.
The first area of focus was local. From apparel and souvenirs to confections and food, Hudson expanded the range and exposure of locally made products across all of its stores, and gave small businesses a dedicated space to showcase their work.
At LAX, Hudson partnered with "CRAFTED at the Port of Los Angeles" for its future Evolve store to feature products from up-and-coming local artisans. Throughout Vancouver and Toronto, the duty free stores carried "Exploring Canada," a new proprietary brand line of souvenirs. In Birmingham, the Sweet Home Alabama store carried items from renowned local chefs as well as Sweet Home Alabama branded products. These were just a few examples of how Hudson brought a sense of place to life within its stores, and tailored it specifically to each location.
In addition to localization, there was also a demand for emerging and "on-trend" categories. In health and wellness, Hudson expanded its offering of wellness products in Brookstone, introduced a "Mind, Body & Soul" shop-in-shop in Vancouver, and launched a healthy snack program in over 100 travel convenience stores. With an emphasis on sustainability and brand accessibility, Hudson carried more than 300 sustainable products in its duty free stores, and partnered with Russell Wilson and Ciara's purpose-driven fashion house, The House of LR&C.
Other examples included the continued strength of Hudson's electronics offering, and the newly launched "Building Back Better With Books" program to cater to travelers' growing demand for printed books with the expert curation they have come to expect from Hudson stores.
By innovating its offering under the Destination 2027 strategy, Hudson brought exclusive experiences and fan-favorite products to travelers where and when they were shopping.
Innovating For The Future Of Travel
Meeting travelers where they are with convenient and frictionless experiences has never been more important. That's exactly why Hudson teams worked together to create a holistic travel experience with digital touchpoints across every part of the journey.
The first step was expanding the opportunities to engage with travelers before, during, and after they traveled. With the launch of the Red By Dufry loyalty program in its travel convenience stores, Hudson was able to engage with travelers beyond the store like never before through personalized and exclusive offers. Coupled with the existing Reserve & Collect program in duty free, these omnichannel offerings allowed Hudson to reach more travelers, more often, while building on its brand loyalty.
To complement these new omnichannel offerings, Hudson then worked to make it even easier, faster, and more convenient for travelers to shop. This vision took shape in two ways – through payment options and digitally enabled stores. By investing in a significant expansion of its self-checkout and mobile Point Of Sale capabilities, Hudson created a retail environment where travelers virtually never had to wait, and team members could spend more time serving travelers.
And with Hudson Nonstop – powered by Amazon's Just Walk Out technology and Amazon One – travelers could enjoy a frictionless and completely autonomous shopping experience. In fact, Hudson opened not one or two, but four Hudson Nonstop stores during the year, with seven of these cutting-edge stores now open.
By putting the traveler at the center of the travel experience revolution – in alignment with Destination 2027 – Hudson never stopped innovating and laid the foundation for digital growth for the future.
Delivering An Operational Improvement Culture To Remain The Traveler's Best Friend
The technology and backend investments Hudson made under its "Working Better, Together" (WBT) program helped transform its business – allowing it to innovate its operations, become more agile through automation, and raise its standards of excellence.
With new tools and systems, Hudson was able to introduce innovations, like self-checkout and omnichannel sales, faster and seamlessly. With this infrastructure in place, Hudson shifted its focus to automation to be more effective in the way it works. By leveraging more data and enhanced reporting, Hudson was able to make faster and more informed decisions. This was extremely important for inventory management, especially to address remaining supply chain issues. From reducing low-performing inventory to centralizing auto-replenishment, Hudson ensured that its stores were stocked with the products travelers were looking for.
The final part of the WBT program was a focused and deliberate effort to strengthen operational excellence. Hudson spent the year putting more resources towards standardizing its store operating procedures to be more efficient in addition to unifying its in-store merchandising and marketing programs.
These concerted efforts allowed Hudson to meet its strategic goals, improve its productivity, and completely reengineer the way it worked to remain the Traveler's Best Friend in the post-pandemic world of travel.
Behind each Hudson store is the best team in the industry. From the corporate team members in New Jersey, Georgia, Toronto, and Vancouver – to the frontline team members throughout North America – to the Distribution Center workers travelers don't often see, Hudson's workforce is made up of a diverse group of individuals united by the Core Values of service, respect, passion, dedication, teamwork, and innovation.
Throughout the year, Hudson worked to strengthen its total rewards package to meet the needs of those team members and invest in what's important to them. Some of the immediate changes included expanding pay delivery methods, introducing new benefits perks, offering additional recognition bonuses, and providing more mental health resources.
But the work didn't stop there. To ensure the team had the tools to succeed, Hudson helped further their career advancement through new and continuous learning and development programs as well as debt-free degree programs.
For those efforts and more, Hudson was recognized in LinkedIn's Top Companies in Retail report as a great place to work and grow a career, and for having a great workplace culture.
2022 was a powerful reminder of how entrepreneurial the Hudson team is and how instrumental they are in shaping the future of the company, especially under the Destination 2027 strategy. That is the Hudson difference.
Travel Can Change The World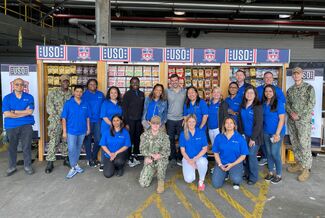 As one of the largest travel retailers in North America, Hudson has the opportunity to use its size and scale to make a difference; to do better and be better every day. Hudson is dedicated to its Environmental, Social & Governance (ESG) goals, which guide the Destination 2027 strategy and is how Hudson works to make an impact across its four priority areas: Employee Experience, Customer Focus, Protecting the Environment, and Trusted Partner.
During the year, Hudson continued to break down barriers and create pathways for more diverse representation and equitable opportunities throughout its business. That included launching Hudson's first Unconscious Bias training, participating in a global Diversity & Inclusion (D&I) survey led by Dufry, and hosting events in recognition of D&I moments like International Women's Day and Pink Shirt Day.
Not only was it important for Hudson to create opportunities for its team members, but also for the communities where they live and work. In its largest fundraising year ever, Hudson collected more than $1.7M from travelers through its donation round-up program. Those funds benefitted The Disasters Emergency Committee's work in Ukraine humanitarian relief as well as Communities In Schools' ("CIS") dropout prevention efforts, both at their National Office and in 29 local community affiliates.
In addition to raising funds, Hudson team members throughout North America committed their time and talent to their communities, whether they were raising awareness for Movember and its support for men's mental health issues, participating in a coat and shoe drive, or setting up a pop-up shop for service members during Fleet Week in New York City.
On the sustainability front, Hudson also made notable progress in using its business to positively impact and protect the planet. One of the ways this was done was by setting new and ambitious climate goals. Hudson pledged to support Dufry in achieving carbon neutrality by 2025 as well as transition its own fleet to electric vehicles by 2027.
Lockstep with those efforts, the duty free teams partnered with One Tree Planted to help with global reforestation. With each qualifying purchase, a tree was planted, which resulted in more than 5,000 trees being planted during the length of the campaign.
And lastly, Hudson worked with its top Vendors to certify a global Supplier Code of Conduct to ensure partners uphold the highest standards of conduct and are aligned with Hudson's and Dufry's values.
It's clear. Hudson's purpose to be a best friend doesn't just apply to people – it's also about making a difference in the community and on the planet.
Award-Winning Travel Retail Experience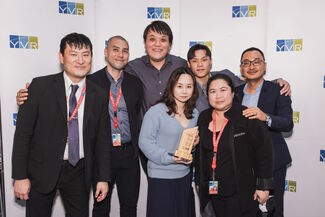 From enhancing the travel experience to delivering excellence in customer service, Hudson is one of the most awarded travel retailers in the industry.
During the Airport Business Diversity Conference hosted by the American Minority Advisory Council (AMAC), Hudson was recognized with the "2022 Airport Concessions Innovation Award". This award was in celebration of Hudson's robust Airport Concessions Disadvantaged Business Enterprise Partners (ACDBE) program and active participation and support of AMAC. 
Hudson also received two awards for its community engagement and sustainability initiatives, which acknowledged the significance of the ESG strategy to Hudson's business. At the annual Communities In Schools Leadership Town Hall, Hudson was honored with the "2022 All In For Students Philanthropic Partner Award" for its long-standing partnership and support of the CIS mission. Additionally, in Vancouver, the duty free team received the "2022 YVR Green Excellence Award" for its efforts to reduce energy and plastic usage.
As proud as it was of its external awards, Hudson made sure to celebrate its own people as well – because their hard work directly contributed to the awards Hudson won. In December, members of the Hudson team came together in-person for the first time in three years for the Management Seminar & Vendor Show. There, Hudson recognized the top Operations leadership as well as six individuals across the organization who embodied the company's Core Values and serve as the Traveler's Best Friend everyday
Coming at a pivotal time in Hudson's transformational journey, these recognitions solidified Hudson's position as an industry leader and reaffirmed the ongoing efforts to support its team members, its travelers, its partners, and its communities.
What a year it's been! Looking back on 2022, Hudson found new meaning to being the Traveler's Best Friend, delivered industry-leading store concepts, built even more brand loyalty through digital innovation, and reaffirmed its commitment to its people and its communities.
Heading into 2023 – and looking ahead to 2027 – Hudson will focus on four key goals: leading a travel retail revolution; expanding its presence in North America; prioritizing operational improvement; and putting people and sustainability at the center of it all. As part of this, Hudson looks forward to the significant expansion of its F&B business driven by the combination with Autogrill.
Thank you for being part of Hudson's journey! The future looks even brighter in 2023.