Our Distinction
Our distinct commercial approach guides everything we do.
We have built our business through operational excellence, financial discipline and the never-ending quest to align the stars for our customers, landlords, vendors, and employees. Our strength and ability in developing local concepts have become a distinguishing advantage. 
Superior Execution
Our General Managers know their specific landlords and have a deep understanding of the wants and needs of local demographics in their specific markets. We leverage this unmatched knowledge to deliver a differentiated, constantly evolving product offering that resonates with the local traveling public and drives sales and profitability.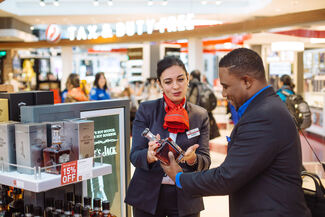 Impeccable Store Design & Concessions
The more accessible our stores are, the easier it is for passengers to shop. When it comes to design, we want our stores to be as visually open and approachable as possible. The American with Disabilities Act (ADA) is taken into account during store layout and also plays a role in the selection of our floor materials. We want our floors to be durable, slip-resistant and smooth rolling despite the luggage, wheels, feet, dirt and product being restocked.
Our success has been driven by our ability to provide differentiated retail concepts and customized concession programs.
This capability is key to our strong relationships with landlords, leading to a concession agreement renewal rate exceeding 80% over the last five years.
Longstanding relationships and credibility
Established relationships with airports across North America High degree of credibility based on past success

Superior execution
Distinct commercial approach that generates more value

Design and development
Successful track record of creating compelling customer experiences

Store concepts and brand portfolio
Broad range of concepts and brands to meet needs of landlords and customers