Careers
Together We Hire the Best
We couldn't serve our customers, landlords, and partners without the continued support of our greatest assets: our team members. We're dedicated to hiring and training exceptional team members who are dedicated to serving the customer as the Traveler's Best Friend. We strive to ensure we're fulfilling our team members' career potentials through training, skills-development, and career pathways – as our people grow and succeed both personally and professionally, so does Hudson.
Embracing Inclusion and Diversity
Our Diversity
From our newcomers to our most seasoned team members, we share a common set of values that unite us in creating a travel experience for our customers. We pride ourselves on our diverse family and believe it's important that our workforce reflects the diversity of our customers and the communities we serve. Each team member brings a unique perspective of experiences, and are valued for their diversity of thought and background, explaining their long-term loyalty.
Hudson is a company that really cares and shows it by how it rewards its employees. I come from India and never thought I could be a part of such a great Company

I've had the opportunity to grow the best team. It's them that helped me win our Traveler's Best Friend award at our Vendor Show this year, which was a major honor.

No two airports are the same, and because of that, we really have to work as a team to solve problems, deliver amazing new concepts and brands, and improve the travel experience.
At Hudson, we are committed to creating a safe environment for our team members in our ongoing effort to prevent and reduce the spread of COVID-19. To protect our team members and maintain healthy business operations and work environments, we've installed sneeze guards and provided personal protective equipment and other safety materials. Hudson continues to update its strategies and recommendations in its response to COVID-19.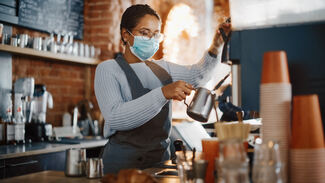 More information about working @ Hudson