Hudson's 2019 Year In Review
In 2019, Hudson team members were proud to serve millions of passengers as they traveled through some of North America's busiest and most award-winning airports. Along the way, Hudson provided iconic specialty concepts, sourced locally-curated product selections, and cared for travelers as friends – through service and dedication, and with ingenuity and expertise. Looking back on 2019, Hudson has much to celebrate, reaching many milestones that signify the company's unwavering dedication to being the Traveler's Best Friend, enhancing passenger experience, and serving as the true all-encompassing travel partner on the travel journey.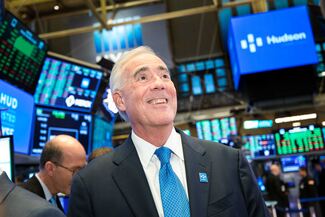 Roger Fordyce Appointed as Chief Executive Officer
The beginning of Hudson's 2019 transformational journey began in January when Roger Fordyce, previously Hudson's Chief Operations Officer, took the reigns as Chief Executive Officer. With deep industry and operational insight and a tenure of over 30 years with Hudson, Roger's focus for the year was on accelerating the company's strategic initiatives and deepening the reach of Hudson's brand across the four key areas of business: travel convenience, specialty, duty free, and food and beverage.
With Roger at the helm and a strong, tenured executive leadership team in place, Hudson secured key market wins and contract extensions over the past year that further solidified the company's North American footprint while expanding the brand portfolio to appeal to travelers of all ages. With a key 8-year contract extension at Toronto Pearson International Airport, new market win in Indianapolis International Airport, two key market acquisitions, and a new licensing agreement with Joe & The Juice, Hudson successfully expanded its reach in 2019 to more than 1,000 stores across 89 locations, totaling more than 1.1 million square feet of retail space.
Along with its store expansion, Hudson also surpassed more than 10,000 team members working across North America, many with a storied history with the company. Hudson is proud to have had 87 team members, both in its corporate and store teams, celebrate more than 20 years with the company this year, signifying that not only is Hudson a great place to work, but also a great place to foster a career.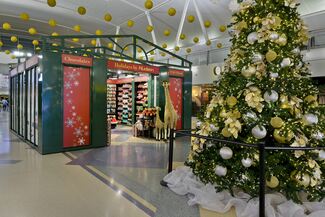 Hudson Celebrated Significant Grand Openings 
With the awarding of new key markets and contracts, Hudson was able to provide travelers with new store concepts that brought a sense of place to local airports, commuter hubs, and even tourist landmarks throughout 2019.
In the iconic Empire State Building, Hudson developed the shop-in-shop experience "Empire on Fifth," that featured exclusively designed destination mementos, a fine art collection, and curated souvenirs including King Kong and Empire State Doorman Bear merchandise.
Hudson also opened its first pop-up shop, "Holidays by Hudson" at JFK Terminal 4, bringing the magic of the holidays to travelers without having to leave the airport, complete with holiday sweaters, ornament trinkets, and a selection of FAO Schwarz toys and plushes. Additionally, Hudson opened the third airport FAO Schwarz toy store at Indianapolis International Airport.
Expanding upon Hudson's food & beverage footprint, the company opened its first  Joe & The Juice at Vancouver International Airport, serving as the brand's first location in Canada. For the coffee and literary enthusiast alike, Hudson combined Dunkin' with its widely successful bookstore concept, Ink by Hudson, at Boston Logan International Airport.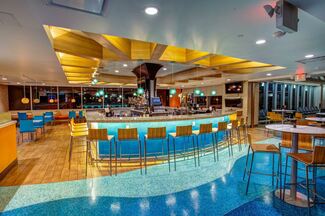 Acquisition of Brookstone and OHM Concession Group Expanded Hudson's Specialty and Food & Beverage Portfolio
The Hudson team announced two important strategic acquisitions in October: Brookstone and OHM Concession Group.
Not only did Hudson sign an agreement to acquire assets related to the operation of Brookstone stores in U.S. airports, of which 30 are currently open and operating, but the company also obtained the right to become the exclusive Brookstone airport retailer. This acquisition brings an iconic brand into its portfolio travel convenience concepts, and Hudson plans to add more locations as the opportunities arise through new RFPs or existing contracts as well as sell Brookstone products in all of its travel convenience stores.
A few weeks later, Hudson announced the acquisition of OHM Concession Group, an award-winning food and beverage concession operator in North America. The addition of OHM will enable Hudson to accelerate its food and beverage expansion, providing the company with its first full-service restaurants and bars in addition to an expanded grab-and-go and quick-serve concept portfolio, including Chick-fil-A, Einstein Bros. Bagels, and Jamba Juice. The acquisition will also allow Hudson to enter two new markets, Albany International Airport and Pensacola International Airport.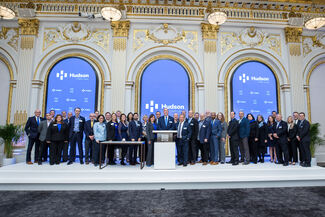 The Traveler's Best Friend Unveils New Brand Identity
On the heels of Hudson's M&A announcements came the company's launch of a new and exciting branding initiative in November. The iconic Hudson name has been synonymous with airport travel for customers for years. The name change from Hudson Group to Hudson and the new logo signified the company's evolution from a travel retail pioneer to a travel experience expert.
The design of the new logo represents the four cornerstones of Hudson's business (travel convenience, specialty, duty free, and food beverage) as windows, which, together, form an iconic letter "H." Hudson's rebrand, complete with an opportunity to ring the closing bell at the New York Stock Exchange on November 25, highlighted just how the company will continue to reinvent the airport landscape.
In addition, Hudson adopted the new mantra, "Turning the World of Travel into a World of Opportunity," an ode to the company's ability to turn the travel trek into a travel experience.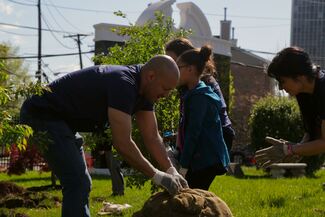 Hudson Advanced its Corporate Social Responsibility Initiatives
With 89 locations across North America, Hudson continues to give back to the communities it serves through community volunteerism, in-store donation campaigns, sustainability initiatives, and scholarship programs for team members and their children.
After achieving milestone in-store fundraising donations of over one million dollars for Communities in Schools, Hudson was recognized nationally as a 2019 Charity Checkout Champion by Engage for Good, a leading organization focused on cause marketing. Hudson was recognized as one of the top 79 U.S. retailers focused on giving in point-of-sale campaigns, and the only travel retailer noted in the report.
However, Hudson's impact on the educational cause area was not just external. In partnership with the American Association of Airport Executives for the third year, Hudson's Mario DiDomizio "Excellence in Education" Scholarship Program provided $50,000 in scholarships to 20 deserving team members and/or their children this year. The scholarship is named for Mario DiDomizio, former Hudson President and CEO.
Hudson's charitable donations, both for its internal and external constituents, reflects that charitable giving and corporate responsibility are a part of the Company's fabric.
As such, it was only natural for Hudson to pursue sustainability initiatives that matched its corporate responsibility initiatives. In 2019, Hudson set a goal to eliminate all plastic straws and stirrers from its stores, and as they head in 2020, they are nearing to completing that goal.
2019 was truly a transformative year in the company's growth story and there is much to be excited about in 2020, including new store designs and the introduction of its new consumer-facing mobile up "Hudson Blue." Hudson would like to thank its team members, partners, vendors, landlords, and customers for their support over the past year, and look forward to continuing to turn the world of travel into a world of opportunity together.