Ink by Hudson and Dunkin' Opens at Boston Logan
Earlier this summer, Hudson opened a combination Dunkin' and Ink by Hudson concept at Boston Logan Airport bringing together the familiar and comfortable morning routine our travelers crave even when on the go: eclectic shopping, great coffee, and a good summer read. 
The new location, located in Terminal C, allows travelers to experience Dunkin's store of the future housed within Hudson's indie-inspired bookstore.
To celebrate the opening, Dunkin' U.S. Chief Operating Officer Scott Murphy joined Hudson Executive Vice President of Operations Mario Scorcia, Hudson Executive Vice President Business Development Mike Mullaney, Marketplace President and co-founder Paul McGinn, Massport Director of Aviation Operations Todd Smith and JetBlue Director of Airport Operations John Flaherty, alongside other Massport, Dunkin', JetBlue, Marketplace and Hudson executives and employees, for an official grand opening ceremony and ribbon cutting.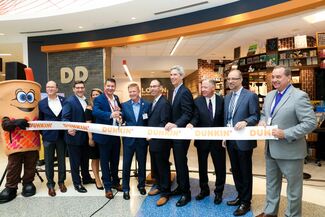 The Dunkin store of the future features a modern atmosphere and innovative technologies – including a cold beverage tap system – which maximizes efficiency while delivering top-quality drinks. New partnerships with Life Is Good allows for new team member attire, and modern design complete with bright colors and an open floor concept creates a positive, energetic atmosphere for guests. In addition, the store boasts the coveted DD Green Achievement, a recognition for saving more than 25 percent energy – from site development to store efficiency – compared to standard Dunkin' restaurants. With an homage to the brand's heritage, the store continues to emphasize and enhance the unparalleled convenience, digital innovation and restaurant excellence that distinguishes Dunkin'.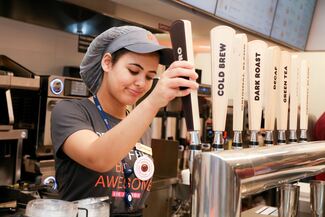 After picking up a refreshing drink, travelers can head over to the Ink by Hudson side of the store. Built around a core offering of books, and representing the latest generation of bookselling, Ink by Hudson continues to be a cultural hub to airport communities across the nation since its launch in 2016. Ink features a curated assortment of bestsellers, small press titles, classics, prizewinners, local favorites, and an eclectic collection of gifts, stationery, toys, timeless quality pieces, and pop culture phenomenon. Tailored to the unique tastes of our travelers, Ink offers the perfect opportunity for shopping exploration and discovery.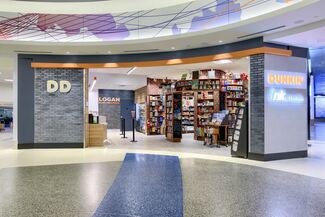 This Ink by Hudson and Dunkin' store concept is sure to spark excitement for both the coffee enthusiast and the knowledge seeker alike, drawing in travelers and tourists who come in for a coffee but stay to buy a contemporary piece.